There are many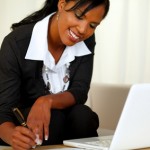 avenues that can help broaden your chances for landing a new opportunity, sending out resumes, networking and of course, registering with a staffing agency. There is a popular misconception that staffing agencies "find" people work. Well, staffing agencies can be another possible avenue to find a job but recruiters do not typically "create" jobs for people. As with most professional service providers, their business is dependent upon client need. When the client has an available position, they reach out to staffing agencies to help fill the vacancies. The client contacts the staffing agency, places a request to help fill their void and the staffing agency reaches out to the best possible candidates to fill them. Remember, the requirements for any available position can vary. It is the staffing agency's responsibility to find the best possible fit.
There are a lot of people looking for opportunities so many agencies are inundated with resumes. That's right, you are not the only one looking for work! Do not be surprised if you do not receive a call or are not contacted. Agencies are literally managing databases full of hundreds, if not thousands of prospects. They cannot possibly reach out to every single applicant. Should you decide to fill out an application and want to know if they received it, contact the agency. Not only will you know that the agency successfully received the application, but this will also give you an opportunity to speak with a recruiter concerning any possibilities or addressing any questions you might have.
Always interact politely and professionally when speaking with somebody on staff. Yes, it is a difficult economy and yes, you might be desperate —  but never show your frustration to the recruiter. It may be helpful to remember that the staffing company's service to you is FREE, so any help they can offer puts you one step ahead. Many times, your initial phone conversation is the first chance to make a good impression! Make sure you are professional, courteous, and mindful of the recruiter's time constraints in speaking with you. Staffing agencies cannot guarantee employment but could possibly be another contact source in your job search efforts and the first impression is your opportunity to open that door.