Finding Resumes is Easy. Finding Winners is Harder… Especially on a Budget.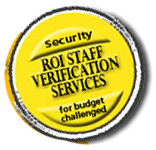 With high unemployment and tight budgets, you may not be able to justify the expenses of a full service staffing agency. You can "Do-It-Yourself." But after you identify your choice from the web or ad responses, how do you verify your decision? Experts agree that approximately 80% of resumes are falsified in one or more areas. How can you protect your company's interests, as well as your own integrity, but still be mindful of the costs when you don't have a recruiting budget? ROI Staff Verification Services offers an inexpensive, effective, FAST way to validate all the information the candidate has provided you for a one-time charge.
Contact us for more information.
Education Verification
Employment References
Skill Testing on MS Office
In the information economy, we can provide as a stand-alone service the data that is most time consuming for you to acquire. Our professional validation staff does everything in our office to assure you of the most accurate results.
Of course, we can offer full service staffing as well through Hire Standard when your time is more squeezed than your staffing Budget.


Please contact one of our experienced Staffing Experts today to
learn more about which Staffing Solutions are best for your Business?