By JC • Hire Standard Staffing
April 2018
---
Eyeland Luxoptics
Eyeland Luxoptics is a professional, comprehensive eyecare and eyewear service company with three locations, Silver Spring, Rockville Pike and one here in Chevy Chase, MD. Yelena oversees all three branches but is mainly at the Rockville store. She was able to give me an interview this morning before the store opened at 10:00 am.
---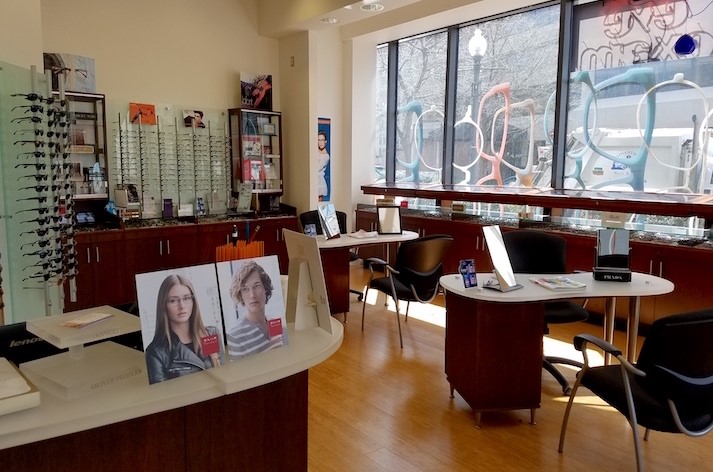 JC: Hello, Yelena. Is Eyeland Luxoptics a chain store?
Yelena: Eyeland Luxoptics are family owned optical care centers. We have been serving the DMV area for 40 years now.
JC: Do you think because Luxoptics is family owned, it offers a different kind of service compared to its competitors? What other differences are there?
Yelena: Yes, definitely. We value every customer and offer as many options as we can. We go far and beyond to offer exceptional customer service such as, same day/next day service on prescriptions, we cut our own lenses on site and also repair frames for free as well (there is an extra cost if extra materials are required). This includes frames that are not purchased at our stores. Our staff members are all trained opticians. In a comfortable and friendly environment, we will help you better understand the many lens choices available as well as give eyewear suggestions specifically tailored to you, your lifestyle and your specific needs.
JC: Do you have a doctor on site and what services do your doctors offer?
Yelena: You can schedule an appointment or walk-in on the days they are available. Our doctors offer comprehensive eye exams, contact lens fittings, medical treatments for many eye conditions and diseases including: infections, pink eye, dry eye and glaucoma. Our doctors are always happy to answer any questions or concerns you have about your vision.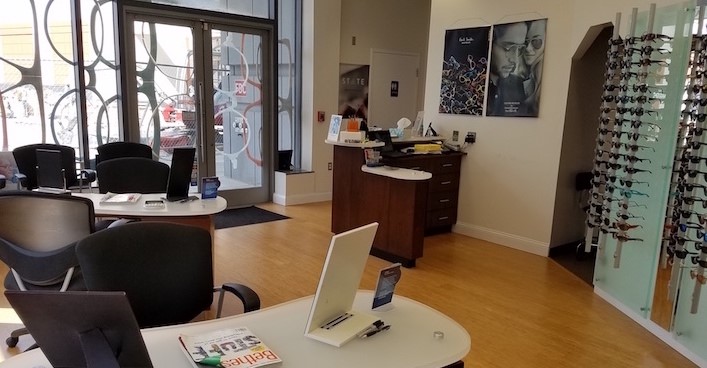 JC: How long have you occupied the space in Chevy Chase? Why was Chevy Chase chosen as a location and did you have a target audience in mind?
Yelena: It has been five years since we have been here. We were looking to expand and because we offer high-end eyewear, we thought the Chevy Chase area would be a good fit for the customer base.
JC: How did Luxoptics want to design this location and what kind of ambience did you want to convey?
Yelena: We wanted a modern design, a clean look and easy access to the eyeglass frames. Our other goal was to provide a comfortable and spacious eye exam office.
JC: How has your Chevy Chase business changed since your move here? What prompted the change?
Yelena: We evolve with the needs of our customers and are always searching for better ways to accommodate them. We accept most insurances and also work with customers to meet their financial needs.
JC: What are some of your best-selling eyewear in Chevy Chase?
Yelena: We carry more than a dozen brands. Our customers love Oliver Peoples, Silhouette, Mykita, Black Fin, Alain Mikli, Prodesign and Tom Ford.
JC: You manage the Chevy Chase location, as well as, Rockville Pike and Silver Spring. What does the Chevy Chase location provide that is different from the other stores?
Yelena: It depends upon customer requests and the client base. We accommodate the customers by having the right brands. Also, the designs of the stores vary depending upon location as well.