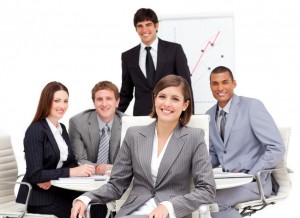 Professionalism should be a character trait. Landing a job implies that your first impressions were of a standard that exceeded your competition; however, complacency as a new recruit is dangerous. You are likely to be under scrutiny for a considerable time after you have come on board. According to Kristi Hedges of Forbes, during the first weeks, both the new hire and the company are assessing each other, and some companies are prepared to fire employees who fail to meet expectations.
First impressions after you are hired can set the tone for the foreseeable future. Come up to speed quickly in your new role, and your boss will likely breathe a sigh of relief and consider you a successful hire. An approachable and helpful demeanor towards colleagues will garner valuable advisors, friends, and support. Hire Standard published a blog in September that emphasized the importance of differentiating yourself in an interview to stand out from the competition. Here are some ways to differentiation yourself in the workplace to develop a stellar reputation:
Reassure your boss. Seek clarification in situations where you are unsure; your boss will be glad to set you straight and to see you make wise choices rather than novice mistakes. A steep learning curve requires that you do your best, seek guidance, and show improvement. Your boss wants you to succeed just as much as you do.
Colleagues will reserve judgment until they see you in action. A good first impression here can win you valuable friends, mentors, and advisors who will make your early days manageable. Be courteous and friendly, offer help, and ask for advice. Showing your weaknesses can be an endearing quality.
Treat customers and clients with the utmost professionalism. They may provide feedback to your boss with respect to your customer management. Excellent client feedback is a surefire way to convince your employer that you are a valuable employee who is worthy of support and investment.
Maintain a professional first impression and your transition will be an easier one that is likely to prolong your career. If you have further questions on making a positive first impression, contact our expert recruiters today.