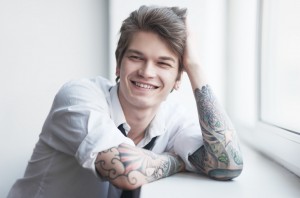 Bad news for body art lovers. Many states are 'employment at will' states which means they can refuse to hire you for any reason or no reason at all. Anti-discrimination and whistle-blower laws do not include tattoos or piercings. This means a company can rightfully refuse to allow piercings and visible tattoos at work unless their ban discriminates against you based on your race, ethnicity, or sexual orientation.
Put simply, employers can consider visible tattoo and body piercings when deciding who to hire.
The dress code is part of the office environment and culture. All employees are expected to conform to that code. Therefore, a potential employer can deem you unsuitable for a position if they consider that your tattoo does not adhere to that code. Obviously, different workplaces will have different concerns with respect to dress code. An industrial setting, for example, with physical laborers and machinery operators may not be overly concerned with the appearance of a tattoo; however, a finance consulting firm that wants to project a professional, business image, may not consider a visible tattoo of benefit. A factory setting that has heavy machinery and moving parts may demand the removal of piercings for safety reasons.
Science Daily reported on a study by Dr. Andrew Timming of the St. Andrew's University School of Management in Scotland that found that visible tattoos carry negative connotations and reduce an individual's chances of being hired. Here are some other findings:
The extent which a tattoo might affect a decision by a hiring manager depends largely on the manager's perception of the tattoo. People perceive tattoos differently and the type of image depicted can heighten a negative perception.
According to Dr. Timming, however, certain occupations benefit from tattoos such as prison guards, who often find common ground with inmates and a mutual topic of discussion. Another bright point concerning tattoos is that older managers tend to hold more negative views regarding tattoos and that younger hiring managers may be more accepting.
Always dress in a conservative manner and choose clothing which covers your body art, or reduces the visibility of it in the workplace. Once hired by the company, you can find out what their policy is (if any) concerning tattoos and body piercings. Just remember you must comply with company policy.
For more advice for your job search, contact us today! We can coach you in your journey to the perfect job for you and guide you to the best employers.